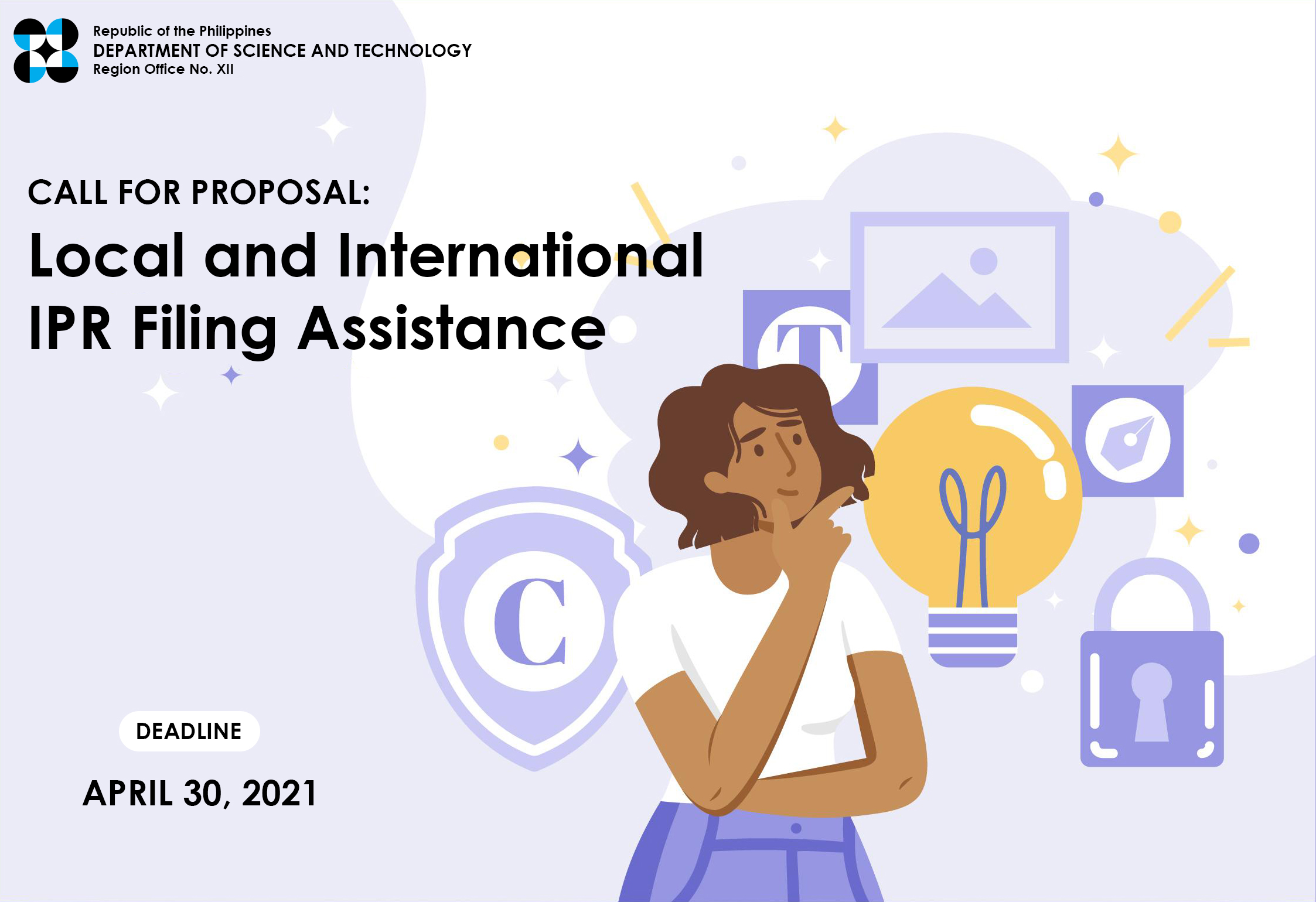 Call for Proposal (Local and International IPR Filing Assistance)
This is to inform you that the Technology Application and Promotion Institute (TAPI) through the Innovation and Technology Support Office (ITSO) aims to provide assistance in protecting intellectual properties (IP) generated by the project "Support to the commercialization of 500 DOST-Generated Technologies and Strengthening the Country's Intellectual Property and Technology Portfolio (DOST 500). Should you be interested, the following are the requirements for your reference (All forms may be downloaded at https://techtrans.gov.ph/how-we-serve/downloadables):
Patent/Utility Model
Request Letter
Invention Disclosure Form
Disclosures (e.g. Manuscripts/reports/ technical paper); and
Preliminary Search Report
Industrial Design
Request Letter
Drawings showing all sides (right, left, bottom, top, front, back, and isometric/3D); and
Photo showing all sides if drawings are not available
Trademark
Request letter; and
Trademark Application Form
Copyright
Five (5) copies of the duly accomplished application form;
Five (5) copies of Deed of Assignment;
Two (2) copies of the material apply for copyright protection; and
Photocopy/Scanned Copy of recent IDs of the authors
Additionally, we would like to inform you that TAPI is introducing the Patent Cooperation Treaty (PCT) application assistance. PCT simplifies the filing of a patent application to different member countries in terms of effort, cost, and time. Further, it is a tool that reserves the applicant's right to obtain a patent in a target country. DOST-TAPI will provide technical and financial assistance for this application.
Please note that filing for a PCT application is valid within one year after the local filing of the patent application. If you have intentions or researches that you want to file for a patent application, DOST-TAPI would gladly assist you and go straight to the filing of the PCT application.
The DOST-500 project will be ending on June 30, 2021. Thus, TAPI recommends only accommodate requests for PCT applications until April 30, 2021. Should you wish to avail of this offer, feel free to contact ITSO Program Manager, Ms. Glenda C. Rima (0919 001 3797) and/or ITSO Senior Science Research Specialist, Mr. Josel Lester S. Bonifacio (0916 313 3146) or send an email to This email address is being protected from spambots. You need JavaScript enabled to view it..
Thank you for your interest!